The Healthy Savings® program is designed to help members take a step towards a healthier diet. While it is not offered as a total health solution, by promoting only foods that rank in healthiest 1/3 of the items in a typical grocery store, the program is a strong move in the right direction for most members.
Many of our members already eat healthy diets. And even more are trying to eat healthier, but with busy schedules are challenged to find the time necessary to research and seek out healthier options.
To make it easy, the Healthy Savings program utilizes independent ratings of foods and
qualifies only the healthiest 1/3 of the items in a typical grocery store
for the program. These ratings are performed in the following way:
a) Each product is initially rated using the independent, rigorous and nationally-renowned Guiding Stars® nutrition guidance system, where a patented scientific algorithm measures the nutrient density of each item.

b) Healthy Savings then uses its own proprietary qualification criteria aimed at allowing only the top 1/3 of healthy foods in each major food category to be promoted within the program.

This gives members confidence that every product promoted in the program is a healthier alternative to the majority of products they could purchase.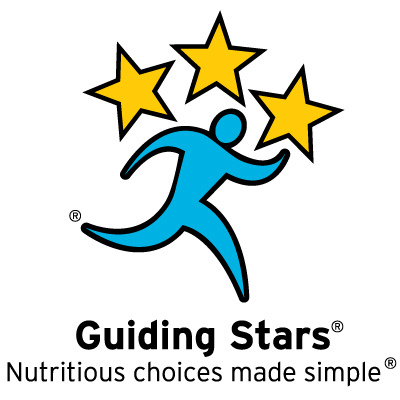 About Guiding Stars
Guiding Stars® is a nutrition guidance program that rates the nutritional quality of food and assigns a score based on a system of credits and debits. Using the Nutrition Facts panel (or the USDA's National Nutrient Database for fresh meat, seafood and produce) the patented Guiding Stars algorithm determines the amount of essential vitamins, minerals, fiber and whole grains versus saturated fat, trans fat, cholesterol, added sodium and added sugars. The more nutritional value a food has, the higher the score it receives.
Guiding Stars is objective, based on consumer research, and not influenced by price, brand or manufacturer trade groups. The Guiding Stars program is grounded in evidence-based nutrition science. The Scientific Advisory Panel for Guiding Stars—consisting of leading nutrition science and public health experts—consults the current dietary guidelines and recommendations of leading national and international health organizations such as the U.S. Food and Drug Administration, U.S. Department of Agriculture, National Academy of Sciences and the World Health Organization.
The Guiding Stars program has received patent protection in the U.S. (US Patent No. 7,974,881 and U.S. Patent No 8,626,796) and Canada (Canadian patent No 2,652,379).